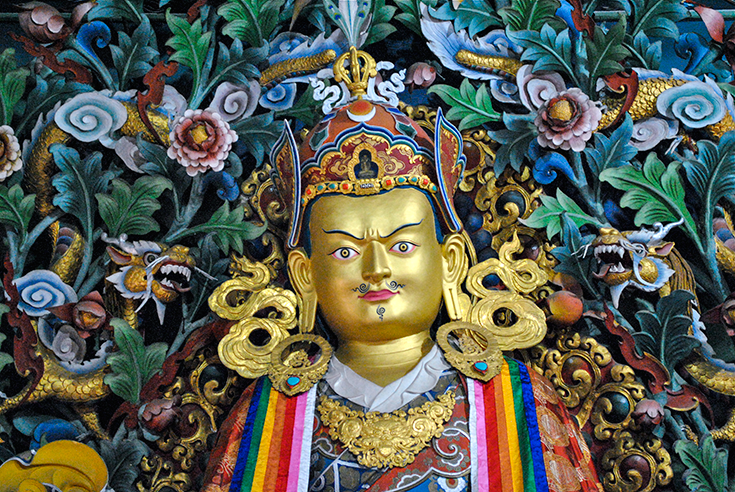 Om Ah Hum Vajra Guru Padma Siddhi Hum
Padmasambhava was a historical teacher who converted Tibet to Buddhism. He was a renowned scholar, meditator, and magician, and his mantra suggests his rich and diverse nature.
Om Ah Hum, as we have seen, have no conceptual meaning. Often they are associated with body, speech, and mind respectively (i.e. the whole of ones being. So theres a suggestion that we are saluting the qualities that Padmasambhava represents with all of our hearts (and minds, and bodies).
Vajra means thunderbolt, and represents the energy of the enlightened mind. It can also mean diamond. The implication is that the diamond/thunderbolt can cut through anything. The diamond is the indestructible object, while the thunderbolt is the unstoppable force. The vajra also stands for compassion. While it may seem odd to have such a masculine object representing compassion, this makes sense in esoteric Buddhism because compassion is active, and therefore aligned with this masculine symbol. (The term masculine does not of course imply that compassion is limited to males!)
Guru, of course, means a wise teacher. It comes from a root word,garu, which means weighty. So you can think of the guru as one who is a weighty teacher. Padmasambhava is so highly regarded in Tibetan Buddhism that he is often referred to as the second Buddha.
Padma means lotus, calling to mind the purity of the enlightened mind, because the lotus flower, although growing in muddy water, is completely stainless. In the same way the enlightened mind is surrounded by the greed, hatred, and delusion that is found in the world, and yet remains untouched by it. The lotus therefore represents wisdom. Again, while westerners would tend to assume that the flower represents compassion, the receptive nature of the flower gives it a feminine status in esoteric Buddhism, and to the lotus is aligned with the feminine quality of wisdom. And once again, there is no implication that wisdom is in any way limited to those who are female. The words masculine and feminine here are used in a technical sense thats completely unrelated to biology.
And Siddhi means accomplishment or supernatural powers, suggesting the way in which those who are enlightened can act wisely, but in ways that we cant necessarily understand. Padmasambhava is a magical figure, and in his biography there are many miracles and tussles with supernatural beings.